For FEB, the Belgian employers' federation, there is a new generation that spontaneously wants to become independent and wants flexibility, preferring it to stability. The "Temps presse!" campaign conducted a counter-investigation.

It appeared that the segmented labour market, flexible contracts and the difficulties of being recognised as a jobseeker are seen by a majority of young people interviewed as a brake on their expectations.

In October 2017, the Federation of Belgian Enterprises (FEB) organised its "Young Talent in Action" event to present its solutions to the problem of youth unemployment on the basis of a survey conducted by IVOX, a market research firm specialising in online questionnaires in the form of a competition. FEB concluded that "Tomorrow's young workers are very flexible and expect the same attitude from their future employer". It calls for the control of wage costs, the reintroduction of the trial period or the relaxation of the rules on temporary agency work. What is generally identified as the causes of young people's difficulties (not chosen flexibility, temporary work, self-employment scheme) becomes, after investigation by the FEB, precisely what would free young people from precariousness.
Equal Pay Day stands for the gender pay gap between women and men, which according to the Federal Statistical Office is 21 percent in Germany. This large pay gap means that women work for free until 18 March, i.e. 77 days, while men have been paid for their work since 1 January. Thus, the gross hourly wage for men is 4.41 euros more than for women.

Germany lies thereby in the European comparison far behind. Positive examples in Europe are Romania, Italy and Belgium, which have gender pay gaps of less than 7 percent.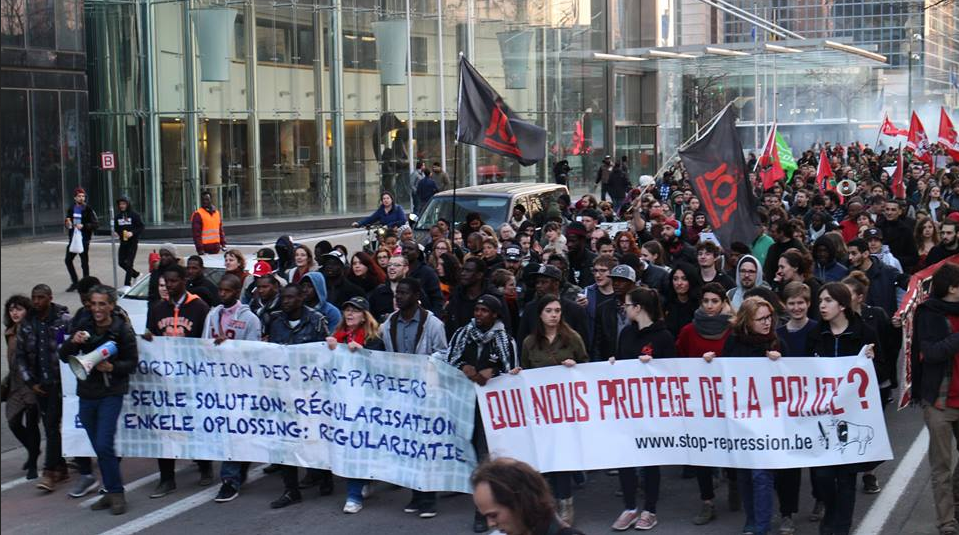 Discrimination and racism on the part of the police, repression of people's movements, migrants hunting, tracking down of homeless people, widespread filing of personal records… It is most urgent to get organized and denounce the security logic. The Stop Repression campaign has been mobilizing against police violence and state repression for eight years now. We hope many of you will join us in the streets of Charleroi on March 15 for the International Day Against Police Violence!
Stop repression of migrations!
Subject to a repression organized at the highest levels of the state, the only crime of refugees and undocumented people is to look for a better future. They are arrested with brutality and placed in closed centers pending deportation. Closed centers are real prisons, and detention conditions are so bad that some migrants attempt to take their own life. Nowadays, even families with children can end up in a closed center. Nobody is spared by those racist security measures taken by the authorities.
Work occupies a central position in our western cultures
It is an unavoidable element of our identity. Introducing oneself is based on what one person does – his/her job. Many people build most of their social links, relationships through work and the contrary is only true for the unemployed. Even the YCW's identity depends on a professional aspect: young, Christians and workers.
It gives access or rights to health services, family subsidies for children, right to a pension, etc.
It determinates our situation in society, whereas, in the Middle Ages, it was birth that determined this situation. Aristocrats e.g. were not allowed to work (even not after having become poor) but would lose their position if they started to work. Today only a minority rejects work or only wants to work part-time, because they see another important dimension of life and feel threatened by the importance work may take in their lives.